Avista™ Advisor™Ci Online uses complex ion technology to maximize system recovery for all membrane systems. Multidimensional datasets calculate different recoveries, temperatures, and pH simultaneously, allowing users to run many complex calculations at once.
The software's tools and key features provide dose recommendations and analytical reporting that is customized to each membrane system's unique requirements. The advanced capabilities of machine learning guarantee optimal chemical dosing for even the most challenging applications.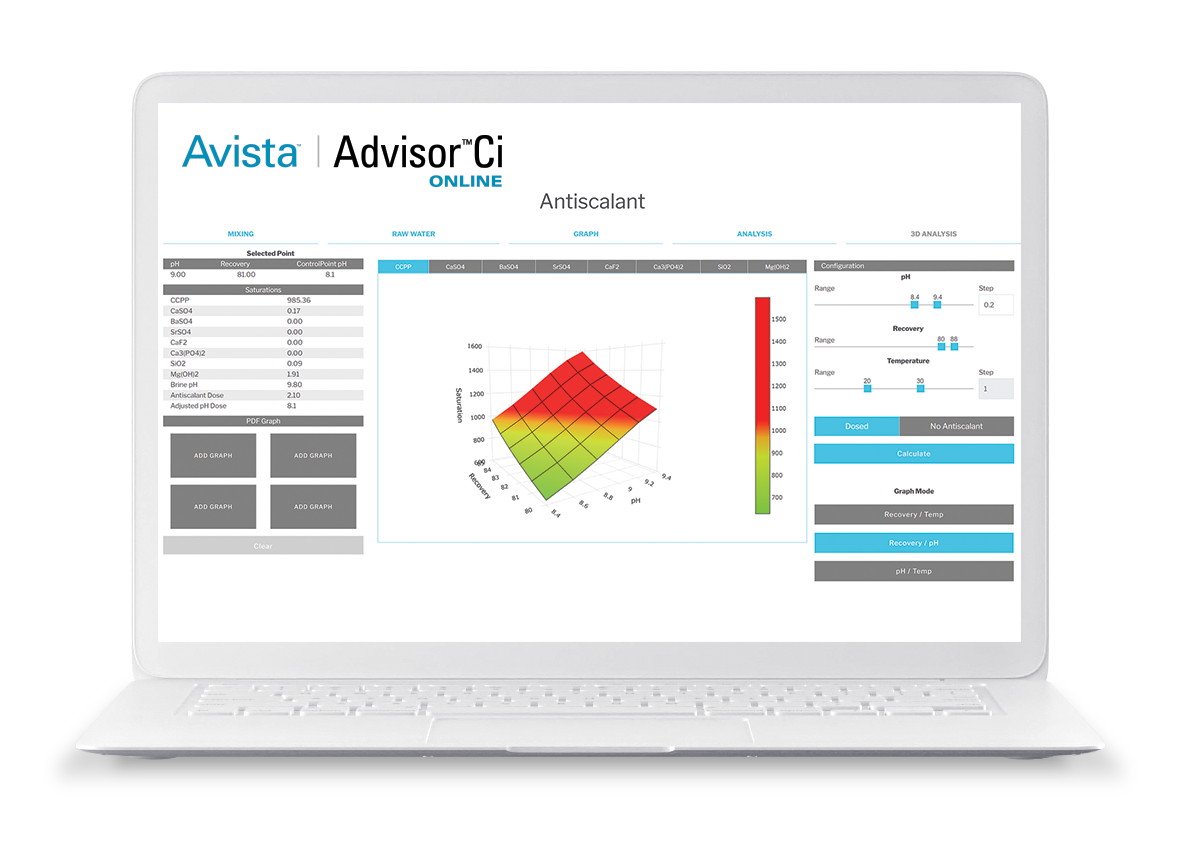 New Features for Scale Prediction Without Limitations
3D Multivariable Model
Runs many complex calculations at once to analyze multiple recoveries, temperatures, and pH simultaneously.


Recovery RO Mode
Simulates a primary and recovery RO system on the same screen, with the ability to adjust recovery, product, and pH separately for each stage.


Multistream Mixing
Combines up to 12 feed streams into one to run through the main RO module.


Advanced Calculation Engine
Accurately predicts the activity of all common scale-forming compounds.


High-Recovery Application
Applies precise calculations to reduce the saturation potential of sparingly soluble salts.


Cleaner Module
Recommends the appropriate product based on system foulants and calculates the amount of chemicals needed based on actual system cleaning procedures. (Training is required to use this module)

Forcast membrane chemical use
Avista AdvisorCi Online is more than just an antiscalant dosing software.
Users can:
Use the chlorine scavenger calculations to neutralize free and combined chlorine.


Calculate daily, weekly, monthly, or annual consumption of Avista membrane chemicals.


Choose the correct pump and speed settings for dosed products. AdvisorCi helps you accurately forecast membrane chemical use.
How to Register
Watch our brief video for a step-by-step tutorial on how to create your own account.